43rd Annual Jesuit-Sheaner Relays
Dallas, TX
March 24, 2007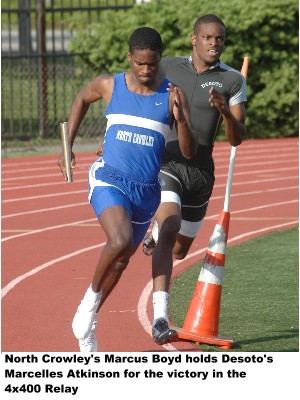 The 43rd annual running of the Jesuit-Sheaner Relays should have been renamed the running of Marcus Boyd. The North Crowley Sr. put on a show as he ran away with two individual titles and help lead his team from a back from behind victory in the 4x400 relay. Boyd, the future Baylor Bear, got his day started by blazing a top ranked field in the 400. His winning time of 46.97 is a personal best and is currently the top time in the state. Along in the race was future teammate, current rival, Romie Blaylock of Cedar Hill. Boyd knows he is going to have a tight race with Blaylock in the field. "We have a strong rivalry with each other and we don't like to lose to each other" stated Boyd about Blaylock. It was only round one for these two. "I have to go back to the drawing board" stated Blaylock. These two will meet for round two at regionals. Next, Boyd led the field in the 5A 200 winning in a time 21.79. The most exciting race of the day was the 5A 4x400 relay. The race featured North Crowley and state leading Desoto. From the start, the race was close with Desoto having a small lead on the field. During the final exchange, Desoto had a 3 meter lead when Boyd got the stick. During the final 100 meters, there was some bumping going on as Boyd looked over his left shoulder looking for Desoto's Marcelles Atkinson. Atkinson came on strong to the right of Boyd when the bumping took place and Boyd was able to hold off Desoto for the victory. The winning time of 3:15.25 places North Crowley to the top of the leader board for the state. Desoto's time of 3:15.44 is a season best and is currently ranked 2nd.
In the field events, Cedar Hill's Tyron Stewart made a jump to the top of the state ranking with his performance. His leap of 49-05 1/2 easily wins the gold medal and is currently the best jump in the state. The best field competition came from the 5A discus. There were 3 throwers over 190 feet. Luke Bryant of Clearwater, KS came away with the title with a toss of 196-09. Finishing second was Tabor Geoffrey of Admore,OK with a toss of 194-06. Rounding out the medal winners was Tyler Lee's own Tyler Fleet with a toss of 191-08. The good news for Tyler is that his throw is the best throw...in Texas.
The Elite 1600 for the girls was exactly that...ELITE. The top six finished under 5:05.00. Iowa Park's Kelsey Johnson finished with a time of 4:58.60 to claim the gold medal.
Other Notable Performances
*Shepard, Howard Skyline 1:55.37
*Robinson, Aldrick Waxahachie 10.25 (Hand Time)
*Lusk, Ryan Mesquite Poteet 4:21.30
* Northcutt, Graham Sulphur Springs 4:21.60
*Farley, Joseph Aledo 16-00.00
*Schwab, Kevin Mustang, OK 9:29.59
*Thomas, Josh Cedar Hill 37.93
*Lindsey, Grant Mansfield 6-10.00
*Geoffrey, Tabor Ardmore, OK 60-10.00