By BRANDON GEORGE / The Dallas Morning News
The DeSoto boys track team's depth in the relays and field events helped it overtake a stacked Class 5A division Saturday at the 41st annual Jesuit-Sheaner Relays.
DeSoto throwers Jason Guillory and Donald Horton paced the team's field athletes to 36 points. Guillory won the shot put with a state-best throw of 60 feet, 3 inches, and Horton was second with a 55-7 1/2 . Horton finished second in the discus with a throw of 175-8, and Guillory was fifth at 155-5.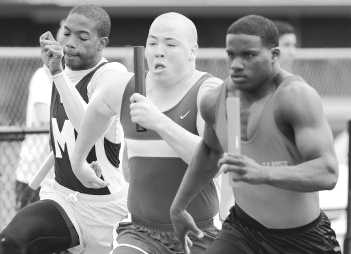 DeSoto tallied 100 points to win the 5A team title at Haggar Stadium. Plano was second with 74, and Duncanville third with 52. Edison (Huntington Beach, Calif.) finished ninth with 27 points.
Lancaster won the 4A division with 96 points. Fort Worth Eastern Hills was second with 76, Mesquite Poteet third with 74 and St. Mark's fourth with 72.
"I'm real pleased with our shot put and discus people," DeSoto coach Mark Brady said. "Considering we weren't 100 percent, we did well."
Relay member Deron Trotter and 800-meter specialist Cardarral Crittendon missed the meet with injuries. DeSoto still piled up the points in the running events.
DeSoto won the 4x100 relay in 41.46 seconds, the fifth-best time in the state, and finished third in the 4x200 relay (1 minute, 28.41 seconds) and 4x400 relay (3:21.93).
"To win this meet means a lot to us," DeSoto senior sprinter Markel Jackson said. "The competition is amazing here – it's like a state meet. You definitely compete against the best of the best in the area."
Arl. Bowie senior breaks 26-year-old discus mark
Arlington Bowie senior Brad Sellers easily broke Michael Carter's 26-year-old discus meet record with a state-best throw of 196-10 on his fifth attempt. Sellers had a throw of more than 192 feet in the prelims.
Carter, who still owns the national high school shot put record of 81-3 1/2 and won a silver medal in the shot put in the 1984 Olympics, set the previous record of 188-3 in the discus in 1979.
"That's been a personal goal of mine, to beat a legend like Michael Carter," Sellers said. "The record had stood for so long and to come out and break it is incredible."
Plano, Richardson runners take 1,600 races
Plano senior Scott MacPherson won the boys 1,600 meters in a 5A meet record and personal- and state-best time of 4:12.24. Edison (Calif.) runner Jayson Hayes, who was on MacPherson's heels the entire third lap before MacPherson hit another gear, was second at 4:17.05. Highland Park's Reed Fisher set the 5A meet record at 4:13.40 in 1972.
Richardson sophomore Jillian Rosen, running for the Texas Track Club, won the girls 1,600 invitational in a personal-best 4:59.03, the state's third-best time this season.
Mesquite Poteet's Hyde hard to catch up with
Mesquite Poteet senior Jansen Hyde scored 48 of his team's 74 points in the 4A division by winning the long jump, triple jump, 110-meter hurdles and the 100 meters and finishing second in the 300 hurdles.
Hyde, a Texas Tech signee, said he ran out of gas in the 300 hurdles, his last event, and started having cramps in both calves at the same time during the race.